Bennett: Marketing Boot Camp
Topic: Marketing and Sales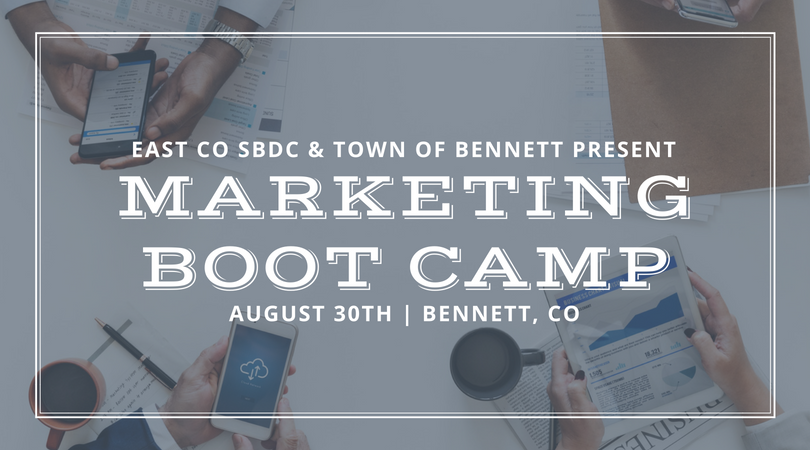 Take your marketing to the next level!
The East Colorado SBDC and Town of Bennett invite you to the Marketing Boot Camp on August 30th! This conference brings together business resources, guest speakers, and business owners from across eastern Colorado for a day of networking and training!
Whether you're looking to brush up on the latest marketing trends or are brand-new to the world of digital marketing, this event is for you! The best part? It's FREE thanks to event sponsor and host, Town of Bennett. Take advantage of this unique opportunity to hear from Colorado-based speakers who present across the region and nation!

Online registration for this event is now closed. Walk-in registration is available on the day of the event. 
Tentative Agenda:
9:00 am - Arrival & Check-in
9:45 am - Welcome & Opening - Town of Bennett
10:00 am - Workshop 1: Cheri Ruskus - Be a Content Hero 
12:00 pm - Lunch & Workshop 2: Chelsie Beller - Creating with Canva 
1:30 pm - Workshop 3: Chalice Springfield - Marketing to 100 People with Just $100
3:30 pm - Closing & Networking Reception 
The event will conclude at approximately 5:00 pm after the Networking Reception.
Attendance is free, but registration is required! See below for the registration link.
Registration includes classes, lunch, and refreshments during the Networking Reception. 
About the Presenters
Cheri Ruskus, Business Victories
Cheri Ruskus is an impassioned entrepreneur and business leader who assists entrepreneurs break through the barriers in front of them. Her 3 decades of entrepreneurship have allowed her to successfully start and sell several businesses. For the past 20 years, through her organization Business Victories, she has been a Business Coach and Mastermind Facilitator working with small businesses around the globe. Her passion for small business also led her to co-found the Downtown Business Association (DBA) in Louisville, CO after opening her first business in 1985. The DBA continues on today assisting small business owners unite to create sustainable growth through rich community events that spark the local business community.
Cheri is the published author of The Victory Letters - Inspiration for the Human Race and Victory One Moment in Time - Unlocking the Master Mind. 
By connecting with audiences through keynotes, workshops, and webinars, Cheri assists in having her participants - both entrepreneurs and those who want to think like an entrepreneur - to rethink their strategies from mindset to marketing. She does this with easy to implement tactics based on current real world experience. 
While you can find Cheri on most social media platforms, Instagram is her hands down favorite. Learn more about Cheri there at @victorygirl. When she's not sharing her enthusiasm with audiences and in her business, Cheri loves enjoying the beautiful mountains of Colorado, her family, gardening, and the world of photography. 
Chelsie Beller, East Colorado SBDC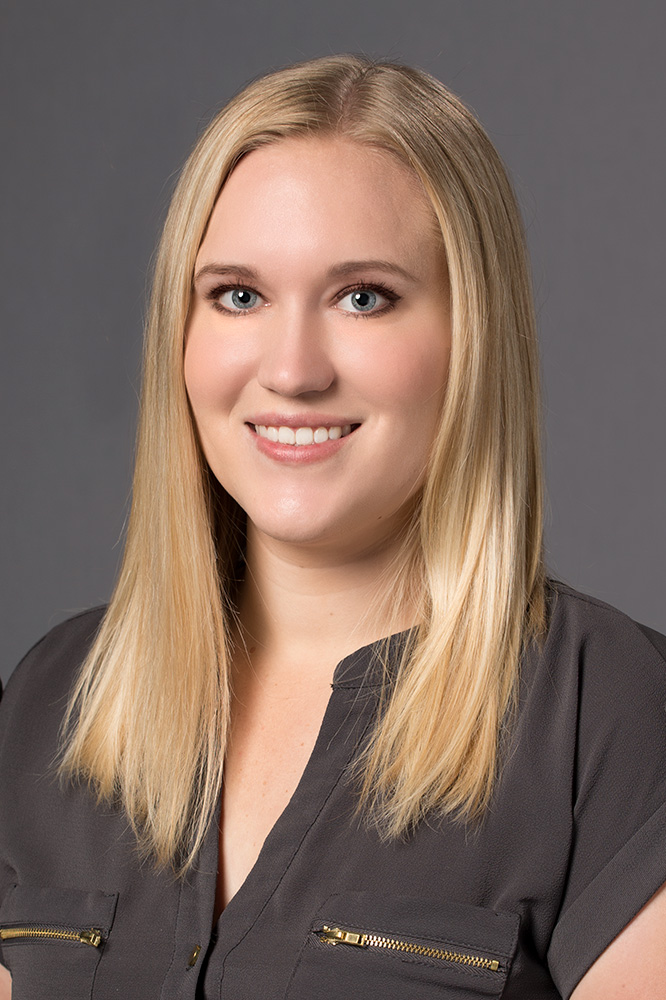 Born and raised in Colorado, Chelsie joined the Small Business Development Center in September 2014 as a Business Consultant, where she enjoys assisting small business owners in Northern Colorado from start-up plan development through growing and sustaining their businesses. Before joining the SBDC, Chelsie worked in the financial industry as a personal banker which gave her insight of the banking system and how she can work with bankers to help businesses become self-sustaining. Chelsie also learned from various positions in the food and retail industries and saw what it takes to make a business successful. Chelsie also serves on the Northern Colorado Manufacturing Partnership's board as the Networks Chair. 
Chelsie graduated in 2013 from the Monfort College of Business at the University of Northern Colorado with a degree in Business Administration with an emphasis in Management, and minors in economics, entrepreneurship, and global business. During her education, she participated in several international experiences which included a study abroad program at the Richmond University in London as well as an internship at Park 8 Hotel in Sydney, Australia. She also assisted as an International Student Ambassador and competed in the International Collegiate Business Strategy Competition. 
Chalice Springfield, Sears Real Estate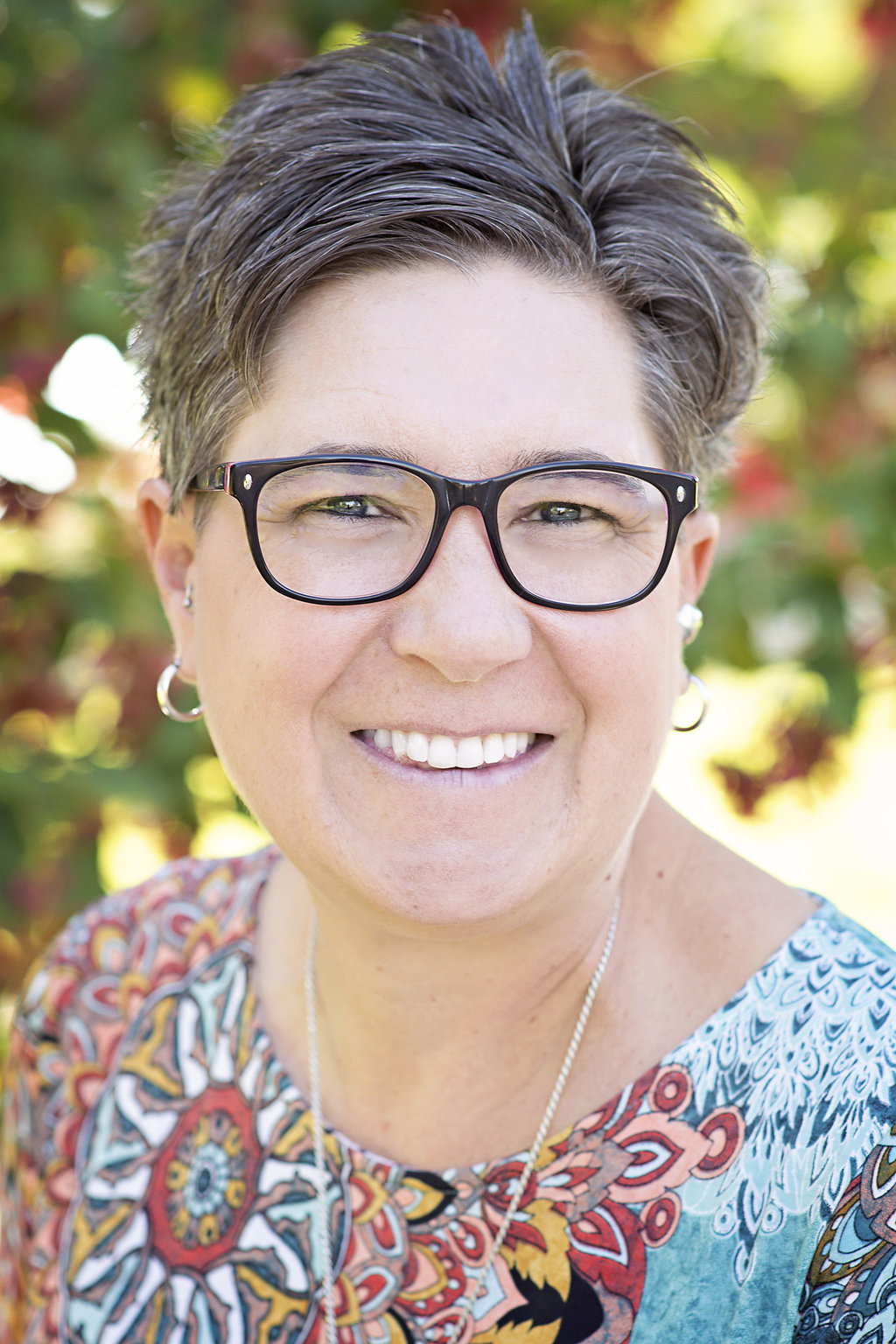 Chalice started at Sears Real Estate when she answered an ad on an index card to work in the mail room on the job board at the University of Northern Colorado. She was just 19 years old and seeking employment to help put her through college so she didn't have to eat ramen and could fill her car with gas. After earning her bachelor's degree at the University of Northern Colorado, while working full-time at Sears Real Estate, she plunged into the world of real estate where she still finds herself some 25 years later! Today, she is delighted to be the CEO/Managing Broker of Sears Real Estate, and independent firm with the #1 market share in the Greeley area. Chalice has sold real estate, worked in the mortgage and title industries, and currently manages over 50 people (she calls it "herding cats!"). 
Chalice is committed to being "green and growing" not "ripe and rotten" which is why she enjoys inspiring, training, and coaching individuals and teams. She has over 15 years of expertise in the field of real estate and motivational speaking. Chalice has spoken at National Conferences and in Colorado for various groups, non-profits, and businesses. 
In her free time, Chalice enjoys unleashing her creative side by making and sending homemade greeting cards, expanding her brain by reading and traveling, and spending time with her husband of 21 years, Chris and her cats, Berto and Jack (who happens to have one eye). Unlike most people in the world, Chalice actually loves public speaking (when it can be fun). 
Sponsored by
Fee: No Cost