Training Series for Trucking Firms
Wed 10:00 AM to 12:00 PM
5 sessions ending Wed, May 19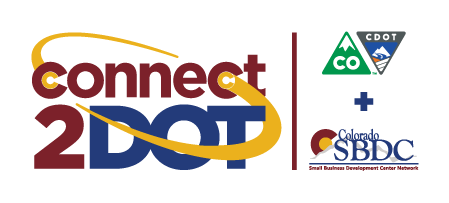 Click on the individual links below to sign up for specific classes.
February 3, 10AM-12PM - DOT Trucking Compliance and Maintenance
February 10, 11AM-12:30PM - Bidding & Estimating for Trucking Subcontractors
February 17, 11AM-12:30PM - DBE Certification for Trucking Firms (Bilingual)
February 24, 11AM-12PM - Lessons Learned from a Successful Trucking Company
May 19, 10AM-12PM - CDOT Trucking Subcontractor Compliance
Following are the details:
1. DOT Trucking Compliance and Maintenance
Are you sure your trucks are all safe and compliant with federal and state regulations? Join us for an important trucking safety webinar sponsored by the Colorado Motor Carriers Association (CMCA) and presented by Ryan Byers of Front Range Compliance Services. You'll get up-to-date information on the latest trucking safety compliance guidance and requirements, what future changes will look like, and how to make sure your company is as safe as possible on the road.
What You'll Learn:
• USDOT compliance requirements
• Hours of service for short-haul operations
• When to complete log books
• Vehicle maintenance - Zero violations!
• What and when to expect driver vehicle inspections
• Leased vehicle and driver requirements
---
2. Bidding & Estimating for Trucking Companies
As a trucking subcontractor, you're stuck paying whatever the general contractors pays, right? WRONG! Whether you have several trucks or you're an owner/operator, you can bid jobs to make a profit and negotiate your rates with confidence. Join us for a webinar on estimating and bidding that is customized specifically for trucking/hauling firms working on construction projects. You'll learn how to refine your estimating process to create more accurate bids and establish rates that you can back up.
What You'll Learn:
• How trucking bids are structured
• Calculating your costs
• Estimating hourly, by the load, or by the job
• Direct labor and overhead costs
• Billing for travel to/from job sites
• Billing for "wait" times
• What primes want to see if your bids
• Errors to avoid
• Submitting your bid
• Bid follow up actions
---
3. DBE Certification for Trucking Firms (Bilingual)
Are you a minority or woman owner of a trucking company? Did you know getting certified as a Disadvantaged Business Enterprise (DBE) can significantly increase your opportunities for work on CDOT and other City and County construction projects? General contractors and other DBE trucking firms often have goals to subcontract a percentage of work to DBE certified truckers. This webinar will walk you through what is required and how to apply. We'll answer your questions (English and Spanish) and provide a free follow up application review before you submit.
What You'll Learn:
• Whether your trucking company is eligible for DBE certification
• Why you should get DBE certified
• How to complete the DBE application
• What documents are required from your business and the owners
• Where to find DBE contracting opportunities
• DBE rules for subcontracting
---
4. Lessons Learned from a Successful Trucking Company
Want to know what it takes to be a successful trucking company in a highly competitive industry? Join us in this new webinar as we uncover the strategies and "insider" tips for becoming a successful subcontractor on highway/road projects. You'll hear from a respected DBE firm that grew from a few trucks working in the oil and gas industry to more than 20 trucks hauling materials on major projects for CDOT, City and County of Denver, and more.
What You'll Learn:
• Setting yourself up for success
• How to find customers and projects
• Who and how to market your company
• Mastering the basic P's (paperwork, payrolls, and profit)
• Working as a team player
• Keys to building long-term relationships
---
5. CDOT Trucking Subcontractor Compliance
Whether you have a subcontract on a CDOT project or a service contract directly with CDOT, trucking companies are subject to FHWA contracting requirements on federal-aid contracts. That means you must comply with various CDOT processes and regulations including the Form 205: Sublet Permit Application, Davis-Bacon wages, certified payrolls, site of work, DBE subcontracting, and more. This webinar will cover contract compliance regulations as they relate to trucking on CDOT projects.
What You'll Learn:
• Requirements prior to starting work
• Davis-Bacon and related Acts
• Defining the site of work
• Certified payrolls and LCPtracker
• B2GNow and Prompt payment
• CDOT construction specifications (revised Spring 2021)
• DBE subcontracting and counting
Fee: No Cost