#SMALLBIZREALTALK Series: Judd's Glass & Mirror
Topic: Managing a Business
"On-site insight from real, local small businesses"
We are headed to check out Judd's Glass & Mirror!!
"Since 1978 Judd's Glass & Mirror has been the proud provider of glass products and services to the greater Teller, El Paso, and Park Counties, That includes Colorado Springs & surrounding area, Woodland Park, Manitou Springs, Security- Widefield, Fountain, Falcon, Black Forest, Peyton & Fairplay. We are ready to tackle your glass problems & meet your glass needs wherever we can! We are happy to meet your glass problems & needs wherever we can! We have the glass experts and flexibility to provide top-notch service at rock-bottom prices.
Our services include auto, residential, and commercial glass, as well as scratch removal and window tinting. Friendly service, quality work, and affordable glass prices are how we do business. Whatever the glass problem & need, big or small, Judd's Glass can handle it.
Judd's Glass & Mirror has been in business for over 40 years, and we have the professional experience you need. We work on all types of glass projects including residential, auto and commercial glass installation, repair and replacement as well as film. We cover a large geographic area and provide a large range of auto, residential & commercial glass installation & repair."
Come join us for this 2022 monthly series where we visit local small businesses and learn about the ins-and-outs of what it takes to be a local entrepreneur! Hear the good, the bad, and the ugly -- the "real talk" -- directly from local small business owners at their business location.
This will be a hybrid event. We will also be broadcasting this event live on Facebook.
The goal of this series is to strengthen our local entrepreneurial ecosystem by networking, championing small businesses, listening to their stories, and most importantly, learning from each other!
Thanks to a sponsorship from ABC Bank, each event in this series is free!
Highlighted Business: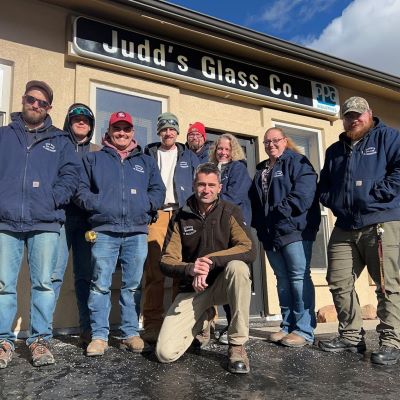 Judd's Glass & Mirror 401 Rampart Range Rd, Woodland Park, CO 80863
#SmallBizRealTalk Series brought to you by:
Media Sponsor:
Register: Thanks to a sponsorship by ABC Bank, this workshop is free!
NOTE: When you register for your first SBDC workshop, you will be asked to fill out our full request for assistance. Thank you in advance for your patience in completing this form. You will only have to complete the form ONCE with us and for no future workshops. The form helps us count our attendance numbers towards our federally-mandated goals and helps us continue to provide our free consulting and low-cost training.
Fee: No Cost