#SMALLBIZREALTALK Series: AirCity 360
Topic: Managing a Business
"On-site insight from real, local small businesses"
**We are headed to check out AirCity 360!!
Catch some air on The 360 - The only air coaster in the USA of it's kind! Learn more about this awesome business!
When you come - you can -
Defy gravity by soaring through 500' of airspace. Or try your climbing skills on the SkyTower - A one of a kind vertical climbing obstacle course. The adventure doesn't stop there! The ultimate challenge, is on The City - a first and only one in Colorado, is our MEGA inflatable filled with obstacles and challenges.
Race with a friend on the zipWAY- A 60' dual zipline. For our little adventures' - Slide, Climb, and Jump at the 180 PARK. Finally the adventure wouldn't be complete without Extreme Dodgeball, Air-Active Trampoline Zones', Jump Bags, Arcades, and more! After hours of fun, quench your thirst and appetite at the City Cafe'.
Need a unique venue, throw your parties and events with our: Roof Deck Tables | SkyView & CityView Party Rooms
Come join us for this 2022 monthly series where we visit local small businesses and learn about the ins-and-outs of what it takes to be a local entrepreneur! Hear the good, the bad, and the ugly -- the "real talk" -- directly from local small business owners at their business location.
This will be a hybrid event. We will also be broadcasting this event live on Facebook.
The goal of this series is to strengthen our local entrepreneurial ecosystem by networking, championing small businesses, listening to their stories, and most importantly, learning from each other!
Thanks to a sponsorship from ABC Bank, each event in this series is free!
Highlighted Business: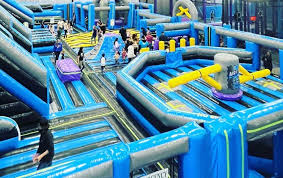 AirCity 360
225 Spectrum Loop Colorado Springs, CO, US 80921
#SmallBizRealTalk Series brought to you by:
Media Sponsor:
Register: Thanks to a sponsorship by ABC Bank, this workshop is free!
NOTE: When you register for your first SBDC workshop, you will be asked to fill out our full request for assistance. Thank you in advance for your patience in completing this form. You will only have to complete the form ONCE with us and for no future workshops. The form helps us count our attendance numbers towards our federally-mandated goals and helps us continue to provide our free consulting and low-cost training.
Fee: No Cost