Social Media: 101
Topic: Marketing and Sales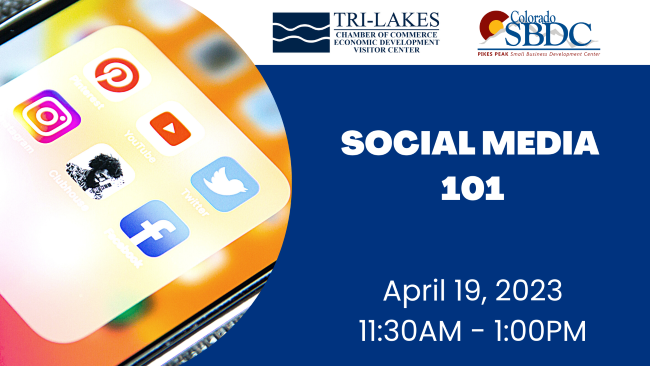 Description:
Please join us at the Tri-Lakes Chamber of Commerce for this in-person workshop!
The digital world with its fast-growing social media trends can be overwhelming. If it's tough to navigate and even tougher to keep up with, why is social media so important? Almost everyone uses it – but there is a difference between using social media and using it well, and that difference is having a social media strategy.
Presented by
Register: Thanks to a sponsorship by Ent Credit Union, this workshop is free! If you need to cancel your registration, please cancel no later than 24 hours before the class date. Thank you!
NOTE: When you register for your first SBDC workshop, you will be asked to fill out our full request for assistance. Thank you in advance for your patience in completing this form. You will only have to complete the form ONCE with us and for no future workshops. The form helps us count our attendance numbers towards our federally-mandated goals and helps us continue to provide our free consulting and low-cost training.
Fee: No Cost
This workshop will get you started amplifying your business through discussing concepts and tools for utilizing social media that are relevant to all platforms.
Already Registered?
Sign in
for more information.