[ON DEMAND] E-Commerce Series: Part 1 of 4: How to Take Your Business Online
Topic: Marketing and Sales
Are You Read to Take Your Business Digital?
Join Us as We Unpack-
Where to Start with Websites
Digital Assets (URL, Social Profiles, Usernames)
Importance of Consistency
Top Platforms to Secure
Helpful Hints & Tools
How To Get Started
Digital Tools and Resources
Facilitated by: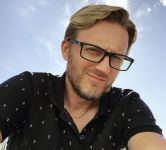 Brandon Lee
Edison App Designs
View other marketing-related workshops/resources
Learn more about Pikes Peak SBDC and free consulting
Register: NOTE: Pre-payment for all workshops is REQUIRED! If you are unable to attend, you will not receive a refund unless you cancel 24 hours in advance. Thank you for your cooperation! Additionally, when you register for your first SBDC workshop, you will be asked to fill out our full request for assistance. Thank you in advance for your patience in completing this form. You will only have to complete the form ONCE with us and for no future workshops. The form helps us count our attendance numbers towards our federally-mandated goals and helps us continue to provide our free consulting and low-cost training.
Fee: $ 20.00
Join us for Part 1 of our 4 Part E-Commerce Series
Already Registered?
Sign in
for more information.