[ON DEMAND] E-Commerce Series: Part 2 of 4: Website Updates and Modifications
Topic: Managing a Business
Are you Ready to Learn More About Your Website?
2 Types of Website (Interactive & E-Commerce)
Which Website is Best for Your Business?
Website Platforms and All the Details
Top 3 Considerations for Your Website to Perform Well
Digital Tools & Resources
Facilitated by: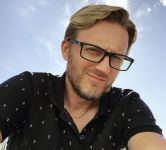 Brandon Lee
Edison App Designs
View all upcoming workshops/webinars
View other marketing-related workshops/resources
Learn more about Pikes Peak SBDC and free consulting
Register: Pre-payment for the webinar is required. Please click on the button below to first register and pay through the SBDC .
IMPORTANT! For On-Demand Registrants: After you register, please click "Continue" in order to get the webinar link and/or watch the webinar. Once you register on the GoToWebinar page, please note that the webinar will start automatically, and you cannot fast-forward or rewind. (However, an email with the recorded video is automatically sent within a few hours after the webinar, where you can save, fast-forward, and rewind from there.) If you are logged out, please sign back in and your webinar link and copy of the slides will be available on the event page.
Fee: $ 20.00
Join us for Part 2 of our 4 Part E-Commerce Series
Already Registered?
Sign in
for more information.