Google Analytics Simplified for Data-Driven Growth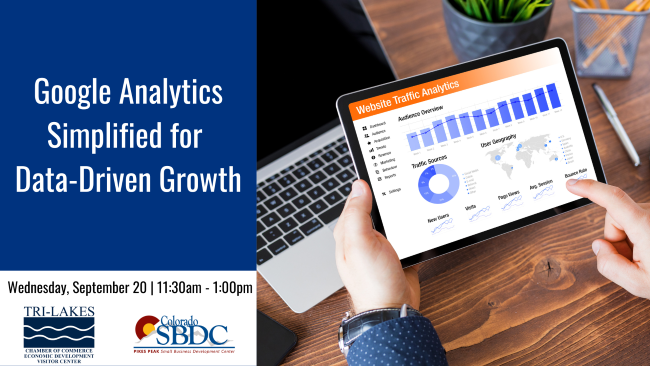 Description
Ever wondered how to unlock the full potential of your business through data but didn't know where to start? Whether you've never heard of Google Analytics or find yourself lost in its complexities, this is your basic guide to getting just what you need to get started. In just 90 minutes, you will:
Discover Google Analytics: Learn what it is and why it's the secret weapon your business has been waiting for.
Simplify the Complex: Navigate through the dashboard with ease, leaving confusion at the door.
Focus on Growth Metrics: We cut through the noise and show you the 3 key metrics that really matter for expanding your business.
Walk away empowered to make smarter, data-driven decisions that will drive your business growth. No prior knowledge is required. Your pathway to business success just got simpler.
This class will be IN PERSON at the Tri Lake Chamber in Monument, CO
Facilitator:
Audrey Kerchner
Chief Marketing Strategist
Inkyma
View other management-related workshops/resources
Learn more about Pikes Peak SBDC and free consulting
Hosted by:


Register: This workshop is free!
NOTE: When you register for your first SBDC workshop, you will be asked to fill out our full request for assistance. Thank you in advance for your patience in completing this form. You will only have to complete the form ONCE with us and for no future workshops. The form helps us count our attendance numbers towards our federally-mandated goals and helps us continue to provide our free consulting and low-cost training.
Fee: No Cost