Avanzar Business Accelerator Program
Wed 6:00 PM to 8:30 PM
12 sessions ending Wed, Dec 13
Topic: Managing a Business
This class is IN PERSON. Virtual option available upon request
Description:
The Avanzar Business Accelerator Program, led by Zachary Barker, a certified economic developer (CEcD) with over 20 years of expertise in entrepreneurial incubator and accelerator programming, aims to equip entrepreneurs with the necessary tools and knowledge to build, execute, and sustain their dream businesses. Through a comprehensive curriculum, participants will engage in courses covering key topics such as developing actionable business plans, designing scalable sales and marketing models, accessing State and local economic development incentives, and gaining proficiency in crucial technologies like CRM, marketing automation, and ChatGPT.
To qualify for Avanzar, applicants must meet key criteria:
Their businesses must be Hispanic, minority, Veteran, or women-owned, operating and based in Colorado.
Applicants must also demonstrate an active pursuit of business growth in size and/or revenue over the next three years.
Participants must either be or become members of the Colorado Springs Hispanic Chamber of Commerce
Commitment to completing no less than 8 accelerator training sessions over 3 months
The Avanzar Business Accelerator Program aims to foster an inclusive and supportive environment where entrepreneurs can develop confidence in themselves and their business. By utilizing a design process, participants will gain clarity and build a simple yet effective plan with key execution activities that will serve as the foundation for their business success.
Presented by: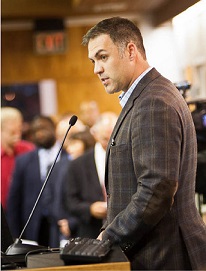 Zachary Barker
Register: NOTE: When you register for your first SBDC workshop, you will be asked to fill out our full request for assistance. Thank you in advance for your patience in completing this form. You will only have to complete the form ONCE with us and for no future workshops. The form helps us count our attendance numbers towards our federally-mandated goals and helps us continue to provide our free consulting and low-cost training.
We strive to host inclusive, accessible events that enable all individuals, including individuals with disabilities, to engage fully please let us know what accommodations you may need.
Fee: No Cost
Already Registered?
Sign in
for more information.