E-Commerce Series: Part 1 of 4: How to Take Your Business Online
Topic: Marketing and Sales
Are You Read to Take Your Business Digital?
Due to the internet's accessibility, millions of people across the world can view your website at any time, meaning that for those looking to expand their businesses and reach out to a larger audience, you have many more opportunities to do so. Compare the amount of people you can reach through a website to the amount you can reach through a high street store or local advertising, there's no reason you shouldn't look at taking your business online if you're looking to improve your reach.
Join Us as We Unpack-
Where to Start with Websites
Digital Assets (URL, Social Profiles, Usernames)
Importance of Consistency
Top Platforms to Secure
Helpful Hints & Tools
How To Get Started
Digital Tools and Resources
Facilitated by: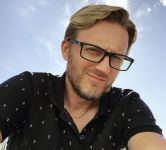 Brandon Lee
Edison App Designs
Location: High Prairie Library | 7035 Meridian Rd, Peyton, CO 80831
In Conjunction with the Four-Part E-Commerce Series:
Join us for the rest of the series!
Part 2
Part 3
Part 4
Fee: No Cost